Heb jij het 1e seizoen gezien van 13 Reasons Why?
Een geweldige serie van Netflix. Ik heb het in 1 adem afgekeken en was onder de indruk.
Waar gaat het over?
De serie, gericht op tieners, toont expliciete beelden over hoe het hoofdpersonage zelfmoord pleegt door de polsen open te snijden. Over deze scène, maar ook over de serie in zijn geheel, ontstond controverse met kritische bedenkingen van onder andere experts van de Zelfmoordlijn en organisaties voor nabestaanden van zelfdoding.
In alle afleveringen ligt de nadruk op de zelfmoord van Hannah, waardoor je focus niet altijd naar de andere karakters uitgaat. In de laatste aflevering, wanneer Mr. Porter op het punt staat naar de tapes te luisteren, laat Principal Bolan weten dat Alex, nadat hij zichzelf in het hoofd heeft geschoten, in kritieke toestand in het ziekenhuis ligt.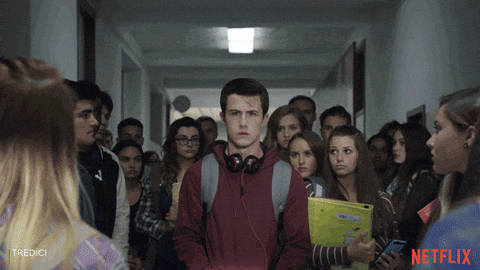 Als je goed hebt opgelet waren er al eerder tekens dat Alex een zelfmoord(poging) beraamde. In een korte scene ruimt Alex zijn kledingkast op, iets wat ook wordt opgemerkt door zijn vader. Hannah deed kort voor haar zelfmoord precies hetzelfde. Volgens een Amerikaanse gezondheidswebsite WebMD, hoort het opruimen van een kamer bij de voorbereiding op een eventueel zelfdoding.
Producent Netflix voerde aan dat het met de serie de taboes over zelfmoord wil doorbreken. Een aantal zelfmoordexperts en leerkrachten vreest dat de serie een negatieve impact kan hebben op jongeren die al worstelen met zelfmoordgedachten. Netflix voegde hierop een waarschuwing toe voor de serie. De drie meest expliciete afleveringen hadden deze waarschuwingen al.
Natuurlijk gingen er na dit seizoen allerlei scenario's te ronde, ook hier in Nederland. Persoonlijk denk ik er toch anders over. Het kan aantrekken bij de jongere of afstoten. Maar zelfmoord zal nu niet ineens meer gaan toenemen door 13 reasons why? Ik geloof dat niet.
Netflix heeft al onthult waar seizoen 2 van 13 Reasons Why over zal gaan.
Sinds 7 mei 2017 is door Netflix dan eindelijk bevestigd dat 13 Reasons Why een tweede seizoen krijgt, speculeren fans erop los waar dat seizoen dan wel niet over kan gaan. Je moet niet meer gaan raden, want Netflix en 13 Reasons Why Brian Yorkey doen dat jou/ons vertellen.
Spannend!
Als je het niet wil weten? STOP nu met lezen en lees een ander artikel of zo. Ga iets maken of zo LOL
Brian verklapt in een exclusief interview met Entertainment Tonight dat het tweede seizoen zich zal focussen op de nasleep van Hannahs zelfmoord en hoe haar mede-studenten en voormalige vrienden daarmee omgaan.
'When people intimate that Jessica's story is done, I find that a horrific thought because Jessica is just beginning the process of recovering from her rape, and we have a rapist who has not in any way been brought to justice. To leave those two things hanging out there in the world would be upsetting. I want to see how that at least starts to play out and I want to do Jessica's story the deserved justice of following her as she goes back to school, as she tries to begin to recover from what happened to her, because it's something that millions of young women go through. And also [I want to] see somebody punch Bryce in the face.'
According to Yorkey
De verkrachting rond Jessica zal beboet gaan worden! Eindelijk gerechtigheid! Amen to that!!
De tapes gaan niet terugkeren in 13 reasons why. Jammer, ik vond het wel iets hebben.
'The tapes are still obviously on people's minds, but there is a different sort of analog technology that plays a hugely important role in season 2. So the cassette tapes aren't at the center of it – those two boxes of tapes are still hanging around and matter to people – but there will be a new piece of technology for 13-year-olds to Google and try to understand what it was.'
Brian Yorkey
Ook zegt Yorkey dat Hannah Baker zeker nog via flashbacks, net zoals in het eerste seizoen te zien zal zijn in seizoen 2 en dat we weer een voice-over zullen horen. Maar Hannah zal dat niet zijn.
Verder ga ik niks verklappen. Wil je het echt weten? Omdat je toch door bent gaan lezen en geen DIY iets gedaan te hebben?
Ga dan naar http://ew.com/tv/2017/05/09/13-reasons-why-season-2-brian-yorkey/ en lees er alles over.
Have fun reading my darlings,
and see you @ 13 reasons why 2e seizoen